Ready to Open an Account?

What is SoFi?
SoFi, which stands for "Social Finance," is an online personal finance company established in San Francisco, USA that began operations in August 2011. The company's main objective is to guide people in achieving financial independence and realizing their financial goals. Although it provides many of the same services and products as banks, it is not a bank; rather, it is a cash management account offered by a broker-dealer.
Pros
Mobile app available for iOS and Android devices
No monthly and overdraft fees
Cash withdrawals through debit cards
SoFi credit card is secured by MasterCard
Through Allpoint network, members have the privilege of free ATM cash withdrawals
Refer a friend for a personal or student loan and earn up to $310
Cons
Investments are not FDIC insured, have no guarantee, and may lose value
Available only to US residents
No physical branches
Active accounts use only market orders
Doesn't allow selling investments that are down; no tax-loss harvesting
Account
SoFi offers an account called SoFi Money, which is the company's fintech cash management account. This account is an interest-bearing cash account that combines the interest earnings of a high-yield savings account just like what every checking account offers.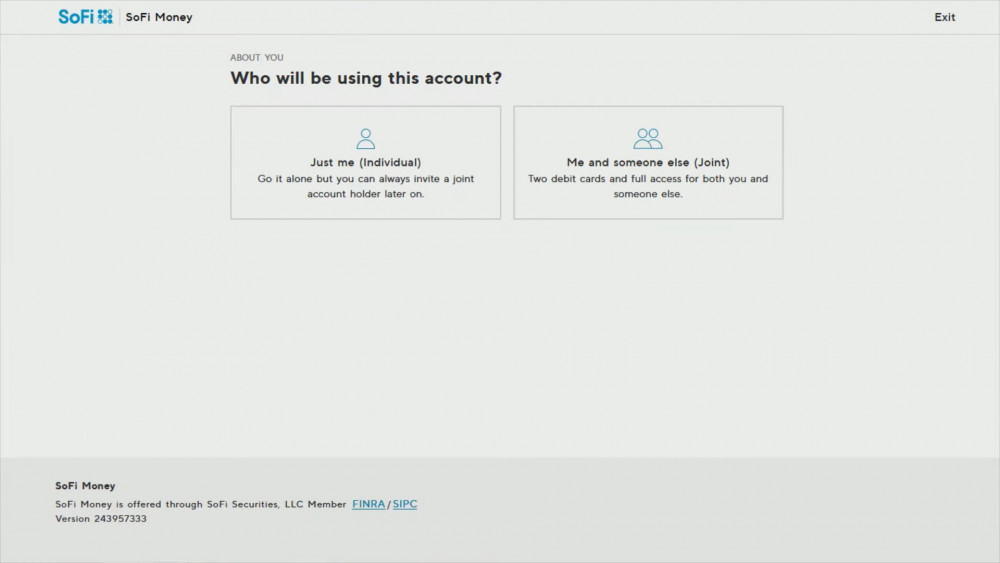 A member who avails SoFi Money will have the chance to earn up to 15% cash back on everyday expenses when they pay through SoFi Money. You can get real-time alerts, freeze or unfreeze your accounts, and deposit checks all through your phone. Once the money arrives at their partner banks, it becomes FDIC insured up to $1.5 million through the following partners:
Eastwest Bank
MetaBank
Eagle Bank
Bank United
HSBC Bank USA
Wells Fargo Bank, N.A.
TriState Bank Capital Bank
Note: To establish your FDIC coverage, you must keep track of your total assets with each of the partner institutions.
Many SoFi Money's features are similar to other cash management accounts but this account has some additional benefits. First, account holders have access to salaries deposited directly up to two days in advance, depending on the employer and payroll service provider. You can earn up to 15 hours at the brand or retail store of your choice by paying with a SoFi debit card.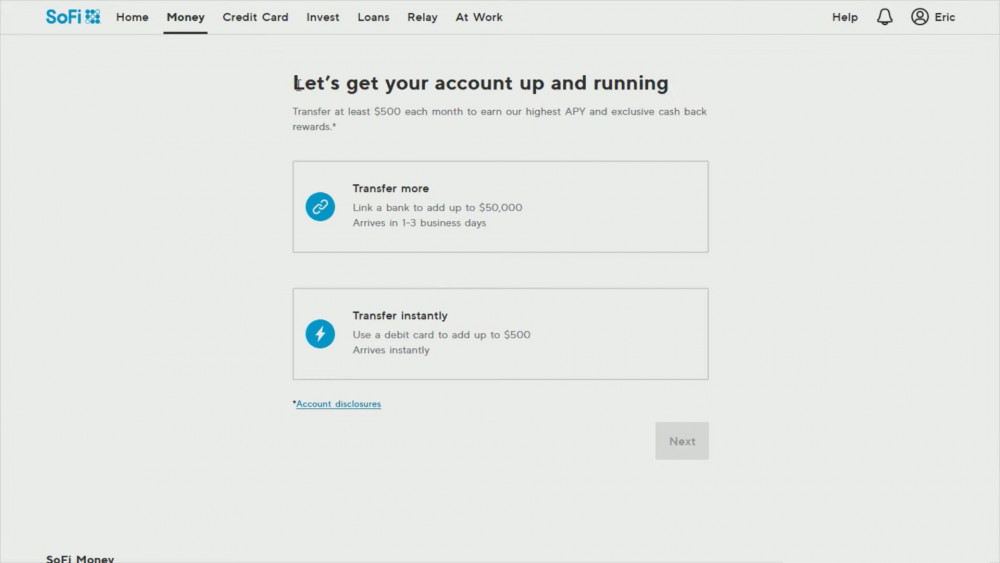 Together with the SoFi Money cash management account, this personal finance company offers other several products as follows:
Investment and retirement accounts
Home mortgage loans
Home mortgage refinancing
Personal loans
Private student loans
Student loan refinancing
Credit cards
Small business financing
Auto loan refinancing
User Interface
The SoFi mobile or desktop app was designed to be a one-stop-shop for all of your borrowing, investing, saving, and other service needs. SoFi Money can be easily accessed and managed wherever you are as long as you have your smartphone and an internet connection. If you'd like to get started, you just need to download the app and you can start investing in minutes.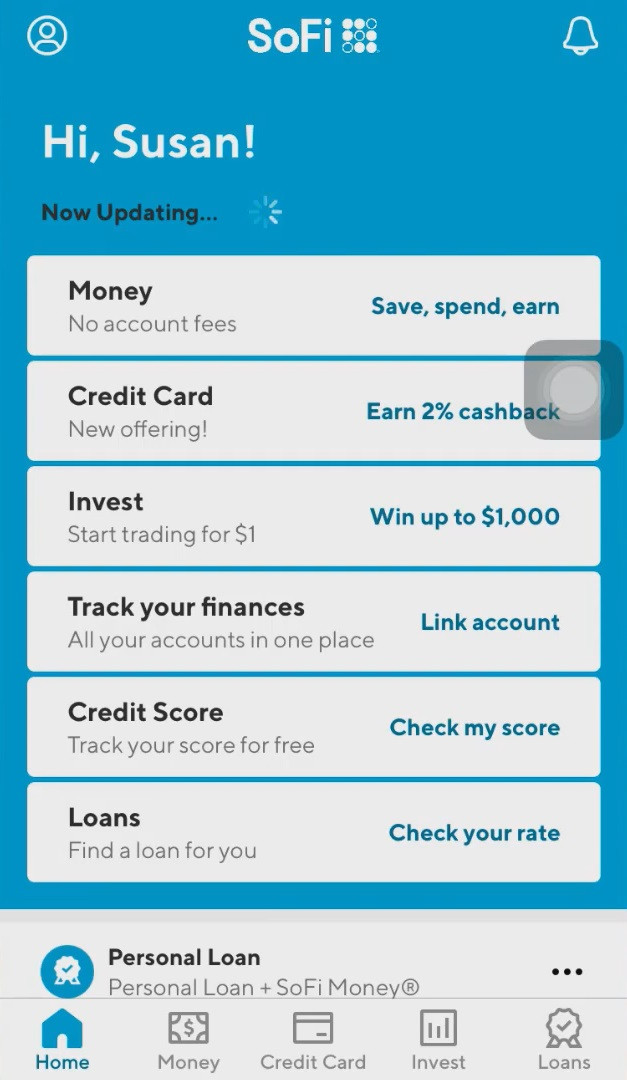 The web and mobile app contain all the features and tools arranged by purpose, use, and function. The interface displays all the tools clearly to transfer and receive money easily, access and manage investments, check loans and status, and see an overview of your finances all in one app. You can even pay your bills straight from your device.
We also discovered that you can now deposit checks online, and yes, the app includes this feature by taking photos and advanced technological scanning. There is also a feature called "Relay", which is a spending tracker for web and mobile access. It also allows integration with other financial platforms to see a collective preview of your finances.
Aside from the app bringing you all the products it offers, rest assured that users' money and transactions are all safe. The app features a two-step authentication to set up and enable fingerprint recognition for safer security. It is so much easier for users to report stolen cards as you can freeze the access directly from the app.
We also discovered that SoFi has been adding social elements in the app to improve customer experience and make all possible emerging features in the industry included. Since we've been testing their app for several months, we've seen that they regularly release updates which is a good indication that they continually enhance the features and make them as personalized for their clients as possible.
The mobile app is available on Apple's Appstore for iOS users and Play Store for Android users. You can find a QR code for a more straightforward download process found on the website. This code needs to be scanned using your mobile phone's camera.
Banking Features
SoFi offers all possible tools and features for users to spend, earn, and save money digitally. You will enjoy Loans, Credit cards, Investing, Money, Estate Planning, and Insurance features.
Credit Cards
This includes the SoFi Credit Card for debts, payments of debts, cash in on crypto, and other functions. It also does not charge any annual fees, unlike other credit cards.
Investing
You can access SoFi Invest, which allows you to trade in the stock market, get updated on IPO prices and news, invest in IPOs, engage in ETFs, automated investing, invest in a Retirement account, and trade in cryptocurrency.
Auto Financing
The auto financing feature of SoFi makes it easy to apply for car loans, prequalify within minutes as processes are done online, have no application fee, and compare lending prices to have a better picture of how you can save more.
Money
SoFi Money is the app's banking focus, allowing users to transfer and receive money, cash in checks, pay bills online, and check balance and transactions. SoFi Money comes with debit cards to make withdrawals in ATMs.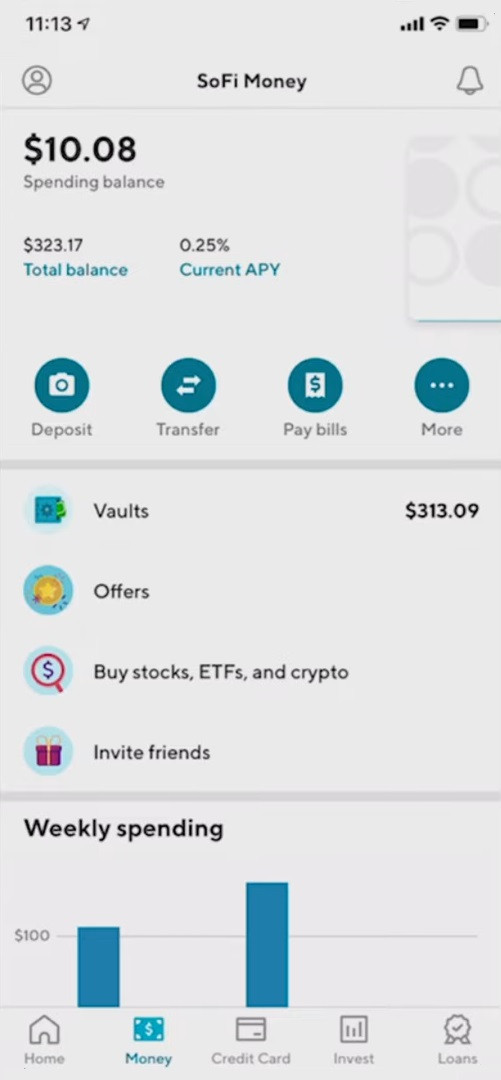 Insurance
Insurance products of SoFi are found under SoFi Protect. It is a platform partnered with the best insurance companies and offers products to users as part of their collective all-in-one services in one app. This includes auto, homeowners, renters, life insurance, among others.
Estate Planning
SoFi, powered by online estate planning platform Trust & Will, offers an easy way to create and manage your preferred estate plan. Members will have a 10% discount on their plans.
Fees
Maybe the best feature is their fees because there is none. To begin with, setting up an account will not cost you anything. There are no periodic account fees, both in debit or credit accounts. Withdrawals made through 55,000+ AllPoint ATM locations are also all cost-free. Even for accidentally spending more than you intend, you have access to up to $50 benefits from Overdraft coverage, with, again, no overdraft fees! And are you also used to banking regulations needing minimum balances? With SoFi money, there are no minimum balance fees so it looks like being a SoFi user means kissing fees goodbye.
Loans
SoFi offers a variety of loans such as personal loans, student loan refinancing, home loans, private student loans, and auto loan refinancing. In addition, it allows you to avail these loans via your mobile phone. Through their app, you can check and find your rate—a simple online application with live customer service accessible every day of the week. It is also known for its low rates on its personal loans, varying between 4.99 percent APR and 19.53 percent APR with all discounts.
How does it work?
The first step will be to prequalify. After finding out if you are qualified, you will now move on to the next step. When you're ready, submit your online application with the assistance of SoFi loan consultants. After submitting, sign your documents, and the money will be paid directly into your account. That is how easy their online application is.
Customer Support
Customer support provides an ideal chance for businesses to differentiate themselves as the customer continues to evolve. Keeping customers satisfied is crucial to the growth of any business.
SoFi offers easy access and simple customer support. You can quickly contact them via chat on their website. If you have any concerns or questions regarding money or loan, you can chat with the money support and the loan support. SoFi can also be contacted via phone call and email. However, their phone and chat channels follow a schedule posted on their website. If you have any concerns, problems, or questions with personal loans, you may contact them from Monday to Thursday between 5 am to 7 pm PT and Friday to Sunday between 5 am to 5 pm PT. Credit card chat support is the only one available 24 hours a day. In my experience, their chat support is the most accessible and the most reliable way to contact them. Their live chat agents are also quick to resolve my concern.
The Bottom Line
SoFi has been in operations since 2011 offering financial products such as banking, credit cards, personal loans, investing, mortgages, and student loan refinancing and these can be accessed through your mobile app and desktop interface.
If you need any assistance regarding your account, you can reach SoFi in different ways such as by phone call, email and they also have a live chat. SoFi has an A+ rating from the Better Business Bureau, indicating that it is reputable. So, suppose you are in the United States and looking for an online application, then you might want to consider SoFi as it provides a wide range of financial products and offers a reliable customer service experience.